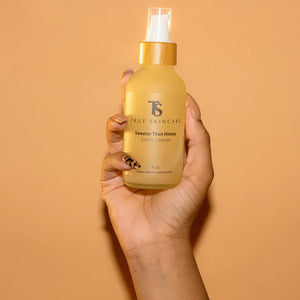 The True Details
The Sweeter Than Gentle Honey is a cleanser that will cause sensitive skin to thrive after removing unwanted dirt while nourishing and balancing the delicacy of your skin.
With its acne-ridding properties, this pure organic honey cleanser works effectively with soothing organic oat straw, calming organic aloe and lavender to activate and nourish your skin leaving it radically soft, smooth and bright.
Perfect for…
All skin types

What You Should Know
Sulfate-free
Solutioned for acne-prone skin
Daily use produces effective results
4oz
Whats in it?
Organic Honey
Organic Oat Straw Extract
Hydrolyzed Wheat Protein
Organic Aloe
Lavender
How to Use
Gently apply a dime-sized amount of cleanser to damp face with fingertips. Thoroughly massage onto face and neck in a circular motion in an upward direction. Remove and rinse cleansed areas with lukewarm water preferably using your hands; washcloths are optional.